SMART CITIES
Our vision is that crowd-sourced data from cyclists will be used to help cities make cycling and cities safer, smarter and more enjoyable for everyone.
See.Sense ICON is actually a lot more than a market-leading cycle light that keeps you safer on the road. ICON is also capable of collecting high quality sensor data about any crashes, near-miss events, road surface, light levels, temperature levels and more. This information is very useful for city planners who want to create better cycling infrastructure and smart cities.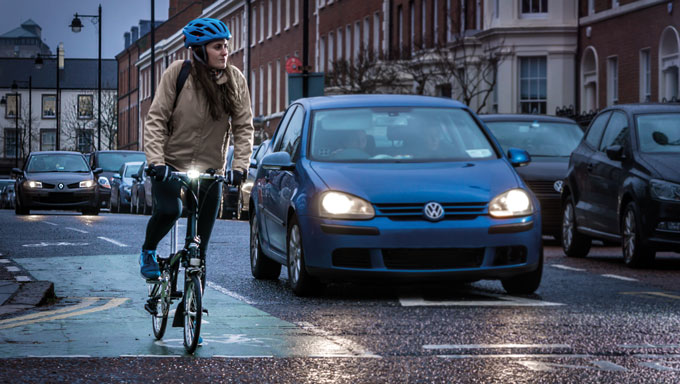 COMING SOON
Informing cities about 'hot spot' areas where there are high frequency of  'near-miss' events and crashes – showing where the priority areas are for cycling infrastructure provision.
Identifying potholes, even before they've fully formed, so that cities can repair them before they become hazards and repair at lower cost.
Integration with traffic lights, so that cyclists can get a green light and be prioritised.
Identify where gritter trucks should be located for best results.
Monitor condition of off-road cycle paths – and much more!
There will be some immediate benefits for cyclists too via our app, such as route planning to avoid dangerous areas or areas with bad road surfaces:
See.Sense CEO, Philip McAleese:
"It is our hope that ICON will help re-ignite a cycling revolution, by providing the data that will help cities identify where and how to make the infrastructure needed for mass-cycling and make our cities smarter".   
Minister Matt Hancock, Minister for the Cabinet Office and Paymaster General, said:
"If this rolls out broadly, we'll have much more data about where the risks are and what needs to happen.  It's exciting because we can use the scale of the data that's out there, with millions of people cycling around cities all the time, in order to better plan how you put a city together".
LATEST NEWS
We are delighted to announce that See.Sense was the winner of the 'smart cities' category and the overall winner of the BT SME Awards for Connected Cities (Overall Winner and category winner for 'Smart Cities') .  The awards were run in conjunction with the Cabinet Office, MK Smart and Techhub.
We were excited to present a paper at at world's leading cycling conference called Velo-City Global, in March 2016 in Taiwan to update on our progress.  We're delighted to say that our paper was very well received, with a number of transport planners in the audience expressing interest in being able to use this data once it is available.
NEXT STEPS
The next steps are that we will continue to work with Professor Marshall, Director of Research at CenSSOR, Queen's University Belfast, to further validate and refine the algorithms.  We are also starting several city pilots over this year to deploy the algorithms on a wider scale.
Follow our blog over the coming months as we begin to share results of the trials and future applications for smart cities.  We'll also keep you updated as things progress via our newsletter (please subscribe at the bottom of this page).
ARE YOU COLLECTING MY DATA NOW?
Data collection is NOT currently enabled on ICON lights.  It is currently only enabled through a special app that our beta test groups and city trial participants have access to.  Whenever we come to enable it, we will ask your permission first via the app. All data will be anonymous and aggregated and we'll always protect your privacy first and foremost.